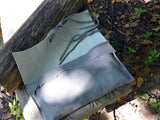 Silver metallic and grey leather clutch
Currently out of stock, more on the way..Please contact me for special orders.
This clutch has enough "glitz" for  a special evening out, or combine it with your favorite jeans and boots and you will be set for a casual dinner date, or lunch with the girls.
The flap is constructed out of an acid washed natural cowhide with a silver metallic finish.  The body of the clutch is a grey leather cowhide with a soft pebble finish.
Design details:  Hidden magnetic closure, Detachable wrist strap, side hand stitching.
Closure:  The leather lacing closure not only looks good, but it's easy to use, and keeps all your items in place.
Measurements:  13 inches wide x 7 inches tall